City Council eyes massive repairs for Detroit area golf courses.
Article by Kat Stafford, Detroit Free Press (April 20, 2018)
A new two-year operating contract approved by City Council last month  may have staved off the closure of Detroit's golf courses, but one lingering question remains: Is there a long-term future for golf in the city?
All four courses are  in need of significant repairs — with estimates of between $5.9 million and $8.6 million for basic repairs at just Chandler Park, Rackham and Rouge Park. The fourth course, Palmer Park, is in much steeper decline and could be turned into a driving range.
On the high end, up to $18 million is needed to do comprehensive upgrades, according to a 152-page report completed late last year for the city by the National Golf Foundation. The suggested upgrades included a complete renovation of Rackham's clubhouse, demolishing Rouge's existing clubhouse to build a new one overlooking the river, a basic fix-up at Chandler and building a new golf learning support building at Palmer Park. The city for now is focused on only bringing the courses up to industry standards with basic repairs.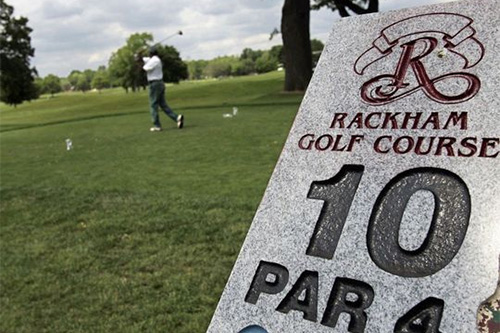 A chief concern also is whether the city might sell some of the courses, specifically Rackham, which is located in Huntington Woods and is one of the most popular courses in metro Detroit. The lingering concern stems from a previous attempt by the city to sell the course in 2006 to a private developer.
The city says it remains committed.
"Does golf have a future past this contract? I would say yes," said Brad Dick, Detroit's General Services Department director. "The future is good. People are there and want to play."
Huntington Woods officials told the Free Press they have expressed interest before about purchasing Rackham from the city but this time they'd have to look hard because of the deteriorated condition of the course, which needs up to $4.3 million in repairs.
"We want it to remain a golf course," said Huntington Woods City Manager Amy Sullivan. "We want it to be as prestigious as it originally was when it was deeded to the City of Detroit by the Rackham family. If Detroit is interested in selling it, we would certainly take a look at that opportunity but given the condition of the golf course right now, it's something we would have to take a good, hard look at."
The declining revenues and deteriorated conditions at the city's courses have also raised concerns among avid golfers and experts who say they're hidden Detroit jewels that deserve significant reinvestment.
Detroit officials say there's no deal on the table right now to sell any of the courses and the city will seek a long-term contract with a vendor within the next year and a half. The Detroit City Council approved a $180,000 management contract in late March for Signet Golf Associates II, a North Carolina-based company, to operate and maintain the three operating courses.
The ideal long-term contract could be anywhere between 10 to 15 years, officials said.
But challenges remain.
The golf foundation report revealed that the four courses generated just more than $2 million in gross revenue in 2016, down 22% from $2.6 million in 2015, placing the courses at an operating loss.
According to the report, Detroit's not alone in its struggles. Nationwide, about 67% of all public golf operations are not able to earn revenue sufficient to cover all basic day-to-day expenses plus depreciation and capital investment.  This stems from the lingering effects of the economic recession, declining interest in golf and the condition of the courses.
According to the report, the golf industry is a $22.3-billion industry, down from a peak of $29.1 billion in 2005. But experts argue the game remains popular and has a deep well of interested prospects.
Dick said the city hopes to break even on its three operating courses this year and make a "modest profit" over the next two seasons of about $40,000.
On Palmer Park, which won't be open this year, the city is in the midst of determining whether it wants to put a driving range on the course and transform the back nine, where the final nine holes are played, into a site that can be used for other recreational purposes throughout the year.
The overall rounds played at each of the four courses has varied over the years but Chandler Park has declined about 30% since 2011, according to the golf foundation report, and the most serious decline — 84% — has occurred at Palmer Park. Overall, Detroit's total rounds have declined by 21.3% since 2011. Only Rackham exceeds the national standard of 31,527 rounds of golf.
But many believe the city's golf system could have a comeback story in the making.
"I'm a firm believer that golf isn't dead," said Richard Singer, National Golf Foundation's director of Consulting Services, who led the report process. "In Detroit, I think there's great potential there. They're kind of hidden jewels but I think the lesson from it all is you can't just let it sit there and take care of itself. … The city has to commit to them. You've got four separate golf facilities in the city and each has its own physical and business issues it has to solve. They all have their unique stories."